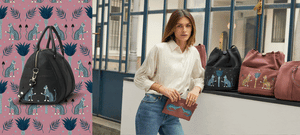 Funtasia x Josefina
ELISA SEDNAOUI DELLAL, BRIANDA FITZ-JAMES STUART AND JOSEFINA ARE LAUNCHING THIS SOCIAL AND ARTISTIC COLLABORATION
"Education is the most powerful weapon we can use to change the world." NELSON MANDELA
Creative Direction by Elisa Sednaoui Dellal and illustrations by our favorite artist, the Spanish Brianda Fitz-James Stuart .

The result of this special project is a collection of 16 bags and accessories, inspired by Ancient Egypt mythology , featuring Crocodiles and an interpretation of the "Abyssinian Cat", which often got depicted as a representation of the God of Sun, RA.

One hundred percent of profits will be invested into FUNTASIA , a social enterprise founded by Elisa Sednaoui in 2013. Through its Funtasia Educational Approach and capacity building model of teachers, educators, community workers, Funtasia has benefitted the lives of thousands in Egypt and Italy, and is launching this year in Mexico, Saudi Arabia and the USA.
Elisa Sednaoui Dellal, international model, founder of Funtasia and FUNTASIA x JOSEFINA Creative director
Funtasia's mission is to provide youth and adults around the world with the tools needed to excel as healthy, fulfilled and contributing citizens .

Through the expertise of both successful creative and educational professionals , Funtasia activates unique, hands-on learning programs in organized safe spaces that enhance formal education, promote self-discovery, and strengthen important life skills.

Through its Adults Training programme, Funtasia provides educators with the tools that allow them to go beyond traditional expectations to advance their pupils academic and personal growth. By embracing the learning process as much as the learning outcome.

Funtasia's approach ensures all learners can fulfill their potential. Funtasia has been able to demonstrate that this method helps reinforce in children's sense of self-esteem, autonomy, involvement and desire to improve .
Brianda Fitz-James Stuart, Spanish artist and illustrator
Brianda's work reflects with great beauty her passion for art history and nature .

The artist delicately gathers the essential features of what she contemplates and transfers them to the painting with sophisticated lines and intense color .

Brianda has created a wonderful universe of her own in which the myth and imagery of ancient times shine like a sweet melody.

She has collaborated with many fashion International brands.
France Lamy Herbeau, Josefina Founder
The brand bears the personal stamp of France Lamy Herbeau, a young Parisian who has managed to capture her creative, authentic and daring spirit in her bags . After ten years in the cosmetics and luxury sector, she felt the need to start on the adventure of creating her own project. When she had her first baby, she realized there was no bag existing in the market versatile enough to adapt to the real needs of the women in their everyday lives: as an urban woman, an entrepreneur and a mother .

Created to last , the JOSEFINA bags are designed in Paris and handcrafted in Spain . The internationally recognized know-how of the Spanish leather craftsmen is behind every single piece.

France takes into account all the details to make the bags ultra practical and versatile : pockets for drinks, computers, all kinds of personal belongings…and a comfortable shoulder strap that allows the bag to be attached to a baby carriage.