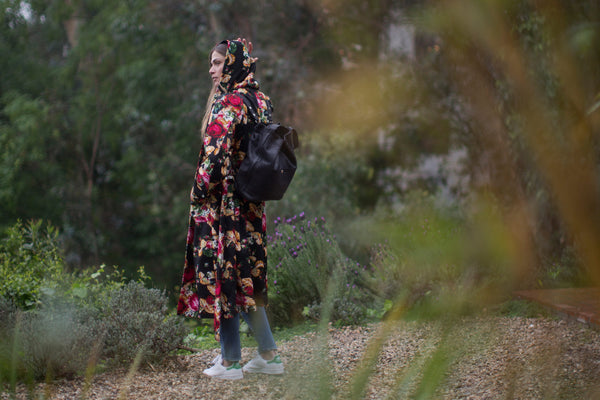 With her effortless grace, determination and exotic aesthetic beauty – she has Egyptian, Italian and French origins – Elisa Sednaoui Dellal ( @elisasednaoui ) has conquered the fashion industry. She started modeling at fourteen years old and made campaigns for brands such as Roberto Cavalli, Armani and finally Chanel where she became a Karl Lagerfeld muse.
Driven by her passion, while in Egypt in 2013, she felt the need to create something important with some sense of purpose. That was the beginning of the Elisa Sednaoui Foundation, a non-profit organization that works in Italy and Egypt to create opportunities for children and to achieve youth empowerment through art.
Elisa actually lives in LA, she's the mother of Jack and Samuel and she is the JOSEFINA of our April issue!
Elisa, in a context in which many countries are questioning our schooling methods, you decided to launch your own foundation. What is the mission of the Elisa Sednaoui Foundation (ESF)?
Its mission is to create opportunities for children and youth empowerment, the development of life skills which are also in demand in the job market. We do this through a horizontal leadership approach to development and capacity building and by engaging our networks at large. We are a non-profit umbrella organization which creates grassroots programs to help foster the compassionate innovators of tomorrow.
What is the story behind the ESF? How did you achieve the inspiration to find it?
I was looking for a long time for something which would give me a genuine sense of purpose, something where I could put in use the experience life gave me.
I have always dreamed of being able to work between different countries, and to be able to do it especially between Egypt and Italy. For years, whilst I made my experiences in the entertainment world, I waited for the concrete "idea" to materialize in my mind.
When I was in Egypt pregnant in 2013 and working on a documentary, I felt the urge to start taking the first concrete steps. In my mind I saw clearly this progressive cultural center as the physical representation of an approach – while it took me a little more time to explain it clearly to others ;-).
A way of working with young people which celebrates the best educational methodologies available around the world. The Funtasia programs focus on the development and strengthening of one's self-esteem, teamwork and solution-oriented mindsets in children and young people, and also in adults. By learning gardening, holistic health, or conflict management, and by deepening the different artistic skills such as directing and photography, we also want to prepare them for the job market of tomorrow.
Today, after having worked on this project for over 4 years and having seen the concrete consequences of what turns out to be the real transformation in the field, after hearing the young people say how much this work has given them security, confidence, strength and curiosity; after seeing the enlightened faces and the energy of the educators and teachers who participated in our trainings, I know that this type of educational opportunities are an indispensable "ingredient" to help build a world to which I believe most of us aspire.
Could you share with us the results of the FUNTASIA program?
To date, Funtasia operates in Italy and Egypt. It has supported 2187 children and youth and trained 356 adults in both countries combined.
Funtasia's journey began in Luxor, Egypt in 2014 with the creation of its pilot centre. In 2016, Funtasia's adult trainings included participants attending from all over the country, and in 2017, Funtasia expanded its trainings to Cairo and Alexandria. Funtasia's educational programs are currently being implemented in 4 locations in Egypt.
In Italy, ESF has been partnering with Save the Children Italia since 2016 to implement the programs in their centers throughout the country (from Torino, Rome, Milan, Genoa to Bari and Massari). In autumn 2017, ESF started collaborating with Slow Food Italia expanding to governmental schools in Italy.
You are already collaborating with an Italian school, how it is that working out? Do you plan to expand to other schools / other countries?
Of course that would be the dream and goal. This is what we are working towards, reaching as many schools as possible around Italy and for them to run the programs in their schools, like we are doing in our pilot. To train the teachers who apply (we already have an extensive waiting list) and support them in implementing Funtasia program. By this I mean Funtasia doesn't only hand the curriculum to the schools, but it supports them all along of the process, preparing and debriefing. The fact is we have been asked by the public school we are currently working with, to extend our collaboration by enlarging and fine tuning our existing programs to many more school subjects, to get even more intersections than we currently are. This means they would like to include not only the professor of arts, music, or environmental studies, but also geography, Italian, history and so forth. We are in the position to fine tune the programs to the specific academic targets to the year, so that those extra activities are actively contributing to the national school program itself. We are looking for partners to help us fund the training of more governmental school teachers who have already signed up and support with the cost of the support in the implementation of the programs. In fact it's not a big cost, given the number of people who would benefit. We at ESF just can't bear the whole cost alone at this stage, also because we are investing in several other projects already, such as the development of the programs, training of adults and the quality of the implementation.
How do you imagine the future of the ESF? (in 5-10 years)
I hope that by then 10 Funtasia centers will be running in Egypt with more in the making. That we will be working with public and private schools. That the centers will be mostly self-sufficient and able to run and fund their activities primarily through the social ventures model and by generating their own kind of income. Services that Funtasia can offer for example are quality programs and interactions with international artists and creatives, being offered to kids who can afford them.
In Italy I hope we will be working with tens (hundreds?) of schools around the country and that we will have reached our target of 30 Save The Children centers running Funtasia programs.
I dream that by then the programs would be adopted much like the Montessori practices in educational establishments around the world, perhaps with a priority in terms of timeline for countries were we already have solid relations, such as the Middle Eastern region, Brazil, Mexico, Spain, Portugal,...
As per ESF, I don't know yet if it will have other initiatives further to Funtasia in its calendar, we will see…
What is elegance for you? And what is your secret style? Do you have any female fashion icon?
Elegance to me is a way to carry your body. It's a confidence in who you are.
I think the style secret for anyone is to really know your body, its proportion, the assets you prefer and those you like less. And knowing how to work around them through fashion to enhance you. I have many style icons, from Lauren Bacall in her first movies, to Talitha Getty in Morocco, to women from Peru in the traditional attires, to a beautiful woman in jeans and white tshirt.
How did you manage your body changes from the beginning of your pregnancy?
I paid attention to what I ate and I did a lot of massage. Muscular to accompany the changes happening to my body, but what was most effective was the Bhoga massage, which is a technique developed by Roberto Magi, and works on water retention, lymph drainage and tissues inflammation through a very dynamic massage which gives me energy and helped so much throughout the pregnancy. I realized that for me the most weight gain during this time is related to water retention! The other products I swore by during this pregnancy are KOMBUCHA, who also gave me lots of energy and helped with my digestive system, REISHI Mushrooms and Class A Adaptogens. Magnesium supplements also helped a lot.
Could you tell us a little bit about your beauty & sport routines?
I discovered two years ago the importance of having a clear process for cleaning the face morning and evening, with hot water, wet towel and double cleanse at night. It makes a huge difference.
I use Sarah Chapman and Dr Barbara Sturm products for my skincare.
In terms of sports, I primarily do pilates, and yoga. I have a few exercises I can do everywhere I am, but I do like to go to classes. I also love hiking in Los Angeles.
And when I'm at the sea, to paddle surf. Skiing in the mountains is another sport I love, I see it as a type of meditation.
What is your favorite thing to do with Jack and Samuel in LA?
I like going hiking with them, being able to see the sea and skiing the same day. What I particularly like is the life style itself. Spending so much time every day outside, Jack swimming at his school twice a week, …
What are your favorite spots to go to in LA?
I like driving around which one might say it's convenient in LA, given the time you spend in the car. Places I particularly like are the Broad and the LACMA museum and the Getty center. Runyon canyon, Topanga and Palisades hike. The Malibu Pier with the amazing "One Gun Ranch" store. I love to go to the Dragon Herbs and Moon Juice stores.
For restaurants, Sushi park. Robata with the kids. For fashion, Re/done and Frame Jeans, Reformation, Rodarte.
Is there any child-friendly vacation place you can recommend outside LA?
Mammoth Mountain. It's a 4 hour drive from Los Angeles and it's an actual skiing resort!! I loved skiing, whilst seeing the desert in the horizon.
Which Josefina bag do you have, and why did you choose that particular one?
I found the Backpack to be the most functional type of bag for my needs, especially during plane travel. It's stylish, elegant, "passe-partout", and features the super practical compartments, which in this messy baby life give you that certain sense of order which makes a big difference.
I choose the yellow font because I wanted something playful, given the very safe choice of black for the bag.
What do you carry in your JOSEFINA? Do you use it more for work, travel or for the baby's items?
I use my Josefina every single time I go out with my baby. In it I have his clothing change, his nappies, water wipes, a toy, formula, a bottle, muslins and bibs, pacifier, snacks for him and my eldest, and then my small personal things. Sometimes I have also tried to stuff in it the jiu jitsu suit of my eldest! My Josefina at that point was a volcano in eruption. When I fly I also put my computer in it.
Do you find inspiration in any other mother? Why?
Of course I learn every day from other mothers. Young, older, all women have something to teach in their approach to motherhood.