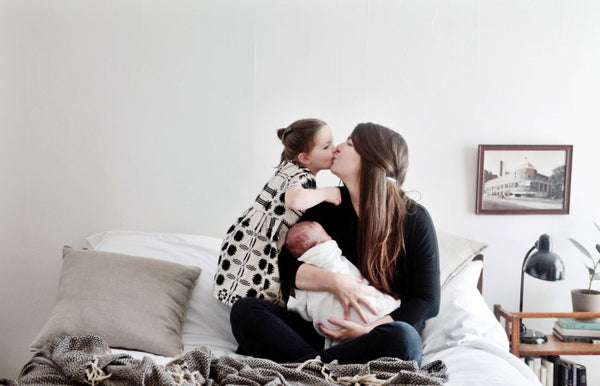 Amanda Jane Jones's creativity and passion has led her into the world of design. Her contemporary aesthetic work is the perfect balance between minimalistic beauty and meticulous design. She works as a freelance Graphic Designer imagining elegant and simple logos. Her unique and risky vision in the Art Directing, not commonly seen in the world of design, is clearly stamped in the fabulous Kinfolk Magazine which is well-known for its recognizable and brilliant covers, all achieved by Amanda. She is now creating her own new magazine, the Define Magazine .Amanda is the mother of Jane and Miles andshe is the JOSEFINA of our March issue!
Amanda, you just became a mom for the second time, do you find anything different this time? Or are you planning things differently for this second baby?
Yes! I'm treasuring this newborn time much more — the second time around, you have a better perspective. Those sweet, cuddly newborn snuggles only last so long before their busy little bees, so there is much more cuddling going on at our house. I also find that I'm much calmer. With my first, I was so worried about her all the time – I'm much calmer with the second.
You are a multitasked woman: Graphic Designer, Art Director and founder of Define Magazine. How do you manage to balance motherhood with your work, your couple and social life? Is there any secret or rule?
I'm still figuring out the balance. It helps that I have a husband with a flexible schedule. He and I can divide up the time so that we both can accomplish the things we're working towards and we both try and make family and each other our priority which I think has been a key factor in making this all work. We're by no means perfect at it and often have to re-evaluate how we're using out time and reconfigure our schedules—it's an ongoing process, but one that we're grateful for.
What do you like the most about being a mother? And what is your favorite thing/plan to do with your kids?
Oh my goodness, so many things! I was shocked at just how much I LOVE being a mom. I love it. Don't get me wrong – I get cranky and tired and still need time to myself, but generally speaking, I just love being a mom. I love morning snuggles and trips to the park. I love teaching my children new things and taking them on adventures and travels. I love listening to Jane, my oldest, talk. She has the sweetest things to say. I love reading books with them (thank goodness I have a bookworm) and I absolutely love to see how much they love their dad.
How did pregnancy affect your style? Did you have 'key' pieces while expecting?
It completely changed my style. Like a lot of women, my shape has never quite returned to what it was, so I go for a much more comfortable look these days. I prefer loose fitting clothing and modern shapes. Since I'm nursing, I wear a lot of separates and generally choose neutral colors and things that can clean easy. Definitely nothing that needs to be dry cleaned.
Where do you like to eat and what are your favorite spots to go to in Chicago town? And do you have any vacation place you recommend child friendly?
Our favorite spots to eat out in Chicago are Lula Cafe, Plein Air Cafe, Promontory, Antique Taco, Big Star, Parsons Chicken and Fish and Bang Bang Pie. As for places to take your children, we love the Children's museum at Navy Pier, the Science and Industry Museum in Hyde Park. We love Maggie Daley Park and of course the beach and the lake shore trail. We love to go for bike rides along the lake and stop for picnics when the weather is nice.
What does your JOSEFINA bag contain?
Diapers! Lots of diapers. Wet wipes, snacks for jane, my Gathre diaper changing mat, a sippy cup, stickers (for Jane), change of clothing for Miles, A&D for diaper rash, a water bottle for me and usually lots of crumbs from previous snacks. I'll be honest, my diaper bag isn't always the cleanest or most organized .
Do you have any tips for mums to make the best use of theirs Josefina?
I always like to feel prepared, so I generally pack more than most, but that's just my personality.
Do you have any inspiring mum? and why?
I do! In fact she just left a couple weeks after staying with us to help with our transition after Miles arrived. My mom loves fiercely. She's extremely giving with her time, her talents and is always looking for ways to serve. I have so many happy memories of growing up. She made the everyday things of life fun. She encouraged us to be creative and helped us realize our potential. She's a wonderful woman to have in your corner and I'm forever grateful for her never ending love and support. I can only hope to be a fraction of the mother she was and is to me.