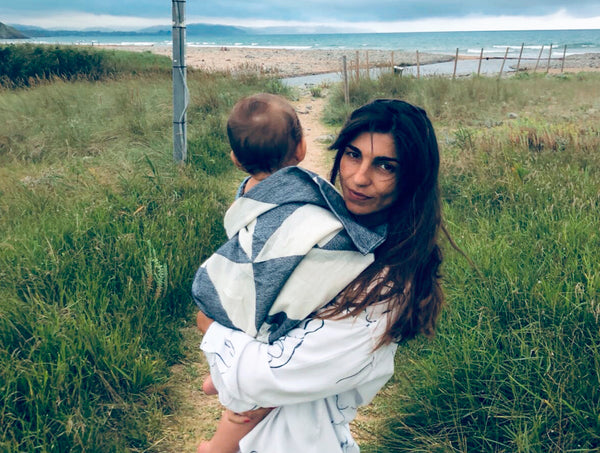 Zahara Gallardo is a woman with a free spirit and an artistic legacy.
She comes from a long line of Spanish designers and grew up surrounded by fashion and shoes.
Ten years as a freelance art director in New York broadened her perspective and she totally fell in love with the city. She has now gone back to her roots, to channel her inspiration into the innovative family footwear business founded in 1925 by her grandfather, Pedro Garcia.
Zahara juggles her work, partner, friends and family with enjoying her baby son, Zael, and she is the JOSEFINA of our June issue!
Zahara, you are an Art Director and used to live in New York, could you tell us what was your first contact with fashion?
It is difficult to remember my first contact with fashion.
I come from a family that works in the fashion industry and designs/makes shoes. My mum has always been very passionate about her job. I really enjoy traveling with her for work as her energy and dedication is contagious. I guess my first encounter outside of the family environment came when I moved to New York. I worked as a freelance Art Director and I began looking at fashion from different creative perspectives. Opening my mind to a whole world of forms, styles, cultures and most importantly, inspiring people.
Where do you find your inspiration?
I find my inspiration in many things. Inspiration, for me, can be found everywhere. To me, inspiration comes from a state of mind that I put myself into when I need to feel inspired to create.
When and how did you decide to join your family fashion business, Pedro García?
I was so happy living in NYC that I could have stayed there my entire life. I loved living there. Having been raised in an environment where the family business was of such importance, I always knew in the back of my mind that one day, when I was ready, I too would be involved in the Pedro Garcia project.
I wanted to give the family business a go as it is something I am very proud of and something that forms a huge part of my identity. My grandfather, Pedro Garcia, worked on convincing me to come back to Spain and give the family business a shot. He was an important factor in me making the move back to Spain, and to Pedro Garcia.
I also couldn't resist the opportunity for me to work with, and learn from him – the man who built the brand. He had taken the brand and business to new heights and I wanted to learn from him, first-hand, the business in his final years of life. That was a huge aspect in me making my decision. It was a great decision. I enjoy working with the family as I find we are all rather connected on a professional and creative level, although sometimes it can be difficult; like everything.
Do you have any style/fashion icons?
I love the wild minds of Diana Vreeland, Frida Kahlo, Madonna…
What does elegance mean for you?
Elegance is the way you approach things, your body language.
What is your secret style?
uniform style; ready for everything.
I like to combine neutral, nice quality fabrics with special, unique pieces I find in random places. Always wearing Pedro Garcia shoes.
How do you imagine your life in 10 years? (family, work, life in general)
I imagine having a wonderful family and working on inspiring things. Like now but better!
Zahara, you just became a mom for the first time, how do you manage to balance motherhood with your work, your partner and friends?
I keep moving, nonstop! But I also have time for myself. My partner is very accommodating, he frees up my time by taking care of our child, which allows me that much needed "me time."
You have to enjoy everything more intensely and be more organized if you want to have quality time for your partner, your work, your friends, and it´sa bit of a time puzzle.
Every day is a time puzzle that you have to juggle and put together.
What do you like the most about being a mother?
That I have become much more active, much more aware. I feel connected to the universe.
How did pregnancy affect your style?
I was pregnant in the summer so that made it easy with flowing silk dresses and my comfy Pedro García sandals.
How did you manage your body changes since the beginning of your pregnancy?
I enjoyed the body transforming process a lot. My huge belly and big boobs; it is a surreal experience.
I´ve been lucky to get my normal body back after the pregnancy with no exercise, just daily baby activities! A lot of dances to put him to sleep and breast feeding have both helped a lot to get my body back.
Could you explain us a little more about your beauty and sport routine?
I walk and I dance everyday as they are things I can do with my baby, but I don't have much time for yoga or other sports. For beauty I just do the basics: facial creams, drink water, and smile!
What is your favorite thing to do with Zael?
I enjoy playing with Zael and watching him discover the world. I love swimming with him in the sea.
Which places would you recommend for a child-friendly vacation?
I would mainly recommend nature or big cities, no roundtrips or boats for babies! I prefer the beach, white sand and warm waters like the Mediterranean or Costa Rica. A house not far from the beach, so you can walk with your baby and, if possible, with your friends who also have babies around!
This year, for our first family holiday we went to Asturias. Playa de Vega is a beautiful, magical spot surrounded by nature where we met up with our good friends, and Zael could play and enjoy the fresh summer weather of the North of Spain.
London is also a good plan for a baby if you don´t have a schedule and can just go for random walks in the parks, cafes, museums, visiting friends… getting inspired.
Which Josefina do you have and why did you choose this one?
I'm so lucky to have two.
THE BACKPACK is so stylish and goes with everything and everywhere! Also you can have it hanging off the pram or wearing it with your hands free! A must have!
JOSEFINA POLKA DOTS – the big one, it´s more of a weekend bag or for long days, for carrying meals and different outfits. You can fit a lot in, it looks very cool, you don´t need to carry different bags – one bag fits all!
What does your JOSEFINA bag contain?
Everything needed an organizer by hand moves. It is always fully equipped and ready to go. Bibs, dummies, toys, bottle, food, second outfit, diapers… Does not matter if I go to the beach, to an airport, or to a dinner. All the basics are in my Josefina bag.
Do you use it more for work or more for the baby stuff?
BabyStuff.
Do you have any inspiring mum? and why?
My mum, I think having a baby is a very human, very tribal thing. It makes you connect to your mum and family. It's as if your natural instinct as a mum is to learn from your own mum.
I am lucky to have had her nearby during the pregnancy and early months of our child's life. I always admire her for being a wonder woman, working so hard and being the best mum. She is so generous and full of life a very inspiring woman, she gives me unconditional love and freedom.