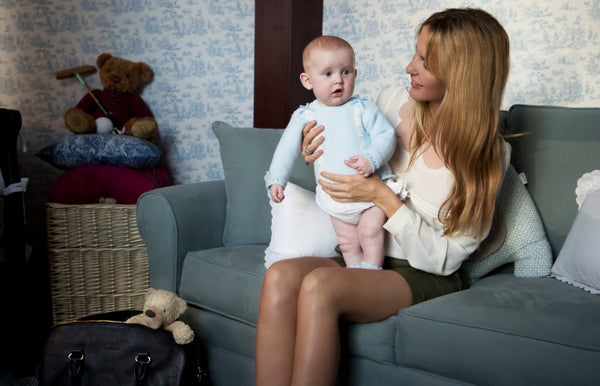 Vega Royo-Villanova is one of Spain's most influential bloggers . She began her career in fashion at the age of twenty at Christian Dior. Since then she works regularly with the biggest luxury brands and strengthens her expertise and influence in the world of fashion and beauty. Today, she lives in New York and is Noah's mother (October 31, 2014). She runs her own award-winning blog DaisyVegaBlog .
Has motherhood changed your lifestyle? How do you manage to find a balance between work, your couple, your social life and motherhood?
I am now a 24/7 mother dedicated to her child so I can say that everything has changed in my life!
I work from home which allows me to easily combine my professional life and my life as a mother.
When my husband comes home in the evening, we bathe Noah, make him dinner and put him to bed together, it's our time for the three of us. Then we have dinner as a couple quietly and thus enjoy our evening. We always do a lot of dinners with our friends, with the only difference that we have to organize ourselves with our nanny who has become our best ally!
What do you prefer about motherhood?
Getting up every morning and seeing my son's smile.
How have you dealt with the changes in your body since the start of the pregnancy?
I'm a pretty relaxed person and I wasn't too careful during my pregnancy. So I gained a lot of weight! But that's normal! For me this is also part of pregnancy and it did not obsess me.
What are your beauty and sports routines?
I practice yoga.
What are your favorite places to eat or have a drink?
For lunch I like to go to Mercer Kitchen for their burger, or to Ladurée but also to Ippudo NY to eat their buns .
I love pancakes from Clinton & bakery and cronuts from Dominique Ansel. And for dinner with friends, Indochine is really great! We often have a drink afterwards either at the Bowery Hotel or at The Mark Hotel.
What's always in your JOSEFINA?
My JOSEFINA contains everything I need!! It's like Mary Poppins bag.
What advice would you give for using the JOSEFINA bag?
It's so convenient, organized, and well-designed that there's no need to give advice!
Vega (September 5, 1980) was born in Madrid and lives in NYC.