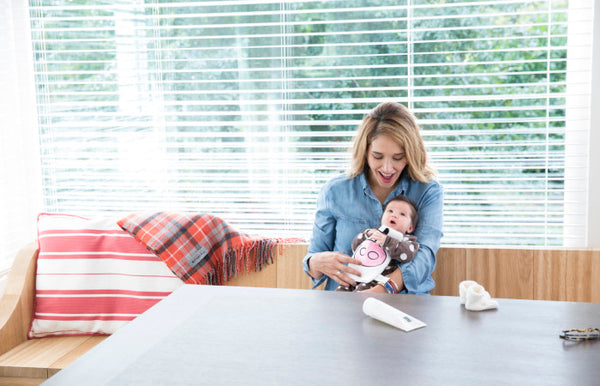 Tiany Kiriloff is a Belgian fashion icon of exotic aesthetic due to her Chilean, Russian and Dutch origins.
She doesn't have only a unique vision and deep knowledge on fashion but her extensive career as a television journalist has made her one of the most relevant digital influencers of her country. In 2008, she launched her own Fashion and Lifestyle online channel: belmodo.tv .
As regular in the fashion world, she is often sitting front row in the main ready-to-wear fashion shows during the Fashion Week and collaborates with several fashion brands designing capsule collections.
She is the mother of Yelena, Eloise & Otilia, and she is the JOSEFINA of our december issue!
How do you manage being a mother of three gorgeous little girls with your job and your pretty busy fashion agenda? And how much has changed your lifestyle having a third child?
I try to find a good balance and to make time for all the things that I love. I love being a mommy but I also adore my job so I really do my best to squeeze everything into my agenda. I'm quite lucky as I can carry on with little sleep, so I work late at night and try to have as much quality time as I can during the hours that the kids are awake. I also have a good help at home, which is really important if you want to be able to work without worries.
I still have to figure out how work and a third baby will work out, however I must admit that for the moment I don't really feel like traveling that much as I really want to enjoy as much as I can of baby O (Otilia ).
What are your favorite things about being a mother? And what is your favorite thing to do with your kids?
I love the unconditional love you feel for these little humans, I love their innocence, the way they think, the remarks they make and the way they make me feel intensely happy… they fulfill my life each and every day! I love watching movies with my girls and listening to music with them in the car, I enjoy our handicraft moments and love shopping with/for Yelena, because she adores it too.
Are they fashion addicts like their mom?!
I'm afraid I've created little fashion monsters that adore clothes and shopping, well certainly Yelena does, Eloise doesn't have the patience, but her sense of style is great and the moments I manage to have her with me in a store she succeeds to combine things impeccably! It's adorable to see this!
How did you manage your body changes while pregnant regarding your dress style? What were your key pieces?
I was pregnant during the summer and it was really hot, so I wore a lot of kaftans and airy garments. I never bought maternity clothes except for these fabulous Citizens of Humanity
maternity jeans, these are a must as you'll be wearing plenty of these combined with little tops and blazers.
Tell us about a day in Tiany Kiriloff's life… How much is fashion world and how much is mummy world? Where do you like to eat and what are your favorite spots to go to in town?
Every day is different, sometimes I have shoots, meetings, fittings, sometimes I spend the entire day behind my computer… lately I've been having truckloads of mommy time and that is really much intenser than the work I do. I'm still breastfeeding so baby O comes with me to everything: shoots, interviews, meetings, etc…
I love my latte's and depending on the city I end up in that day I have different places to be to enjoy these latte's
-Can in Gent
-Barnini and CoffeeLabs in Antwerp
What does the JOSEFINA bag of a mother of 3 contain?
Regular baby stuff, my make-up and my pouch with cards and money. Not more than that actually as I'm a light traveller.
Do you have any tips for mums to make the best use of their Josefina?
Use it as your own carry-on bag, it's beautiful and all you actually need.
Do you have any short term working mum goals? If so what are they?

Well fashion weeks will soon be around the corner and I hope I will be able to be separated from baby O.
Do you have any inspiring mum? and why?
My own mommy is always a great inspiration and becoming a mom myself has really enhanced our relationship.