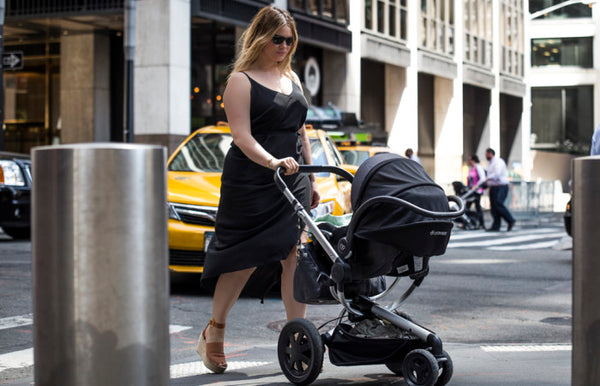 Empowering women of all shapes and sizes, all-American model Tara Lynn has riled up the modeling industry from the start. She has worked with storied fashion photographers such as Patrick Demarchelier and Steven Meisel and her beauty has blessed the covers of magazines such as Elle, Glamor and V. Although she models professionally, she also holds a degree in linguistics and is a classically trained singer. Lynn's positive attitude towards changing the ideal image of beauty has inspired many, giving her to opportunity to be the face of H&M's plus-size clothing line, of recently awarded campaign for Lane Bryan or of the new line Violeta by Mango. She is the mother of 9 moths old Finlay Skye Bell and she is the JOSEFINA of our July issue!
Being a first time mum, please tell us what do you like the most about being a mother?
I like how completely in love with my kid I get to be, and watching the magic of growth and development day by day.
How do you manage to balance motherhood with work, your couple and social life?
I'm still figuring that out. I've learned to ask for more help than I wanted to accept, and also trust the people who are helping me. I think one good secret is to take lessons from grandparents; they've done it all before and are much more relaxed than new parents.
Motherhood has changed my lifestyle for the better, so far. I'm typically not a big planner. But now if I want to be productive or have a workout I have to plan a sitter ahead of time. Which means I'm sort of requiring myself to follow through with my intentions, because you can't hire a sitter and then lie around daydreaming.
How did pregnancy affect your style? Could you tell us a few of your style essentials while expecting?
I had a hard time with that. I think every pregnant woman has better style than I did while I was pregnant. Which I guess is because my pre-pregnancy style just wasn't conducive to a bulging belly. I finally found an array of Isabella Oliver tanks and dresses that made me feel put together, and I had success with a spread of Nordstrom.com finds.
What is your favorite thing/plan to do with Finlay in town?
I take him every morning to the East River to watch people and dogs and boats and the water. His attentions and curiosities change every day. I try to speak to him only in French during this outing. Nitehawk Cinema has a baby friendly matinee every week.
As a model, do you have a career goal and if so, can you tell us more about it and where do you see yourself in 10 years?
One of my career goals is to keep modeling until I'm very old. Is that weird? Of course I have some unrelated goals, but I'm reveling in the moment for now.
How do you like living in NY and how is it for you compared to San Francisco?
I'm so happy to be back in NYC. I hope that raising Finlay in a multicultural environment with educational and collaborative resources at his fingertips will set him up for a future where he can explore and hone his passions. The only con I can think of is that I don't know if I'll ever be able to afford a yard.
What does your JOSEFINA bag contain?
I travel constantly for work and I often bring Finlay along. I searched everywhere for a bag that kept me appropriately organized on the plane, but everything was cumbersome and aesthetically displeasing. When I tried to switch to one of my personal bags, I found out in one trip what a disaster it is to just toss everything into a cute backpack. So when my Josefina finally came to me I could not have been more delighted to have a bag so beautiful I'd travel with it even without the baby, and which attaches perfectly to my travel stroller, leaving my arms free and weightless, and which has all the pouches and pockets I need inside to help me find things quickly in the cramped quarters of air travel. Finlay and I never travel without it! In it I carry diapers, wipes, mini change pad, bottle, probiotics drops, gripe water, sun block, fingernail scissors, thermometer, extra onesie and socks, burp rag, toys, snacks, my own toothbrush and paste, phone charger, headphones , and probably more!
Do you have an inspiring mum?
Of course! My ma is all love and nurture and exuberance and taught me above all else to be kind and to do what I love. And come to think of it, these are the main values ​​I hope to instill in my son.