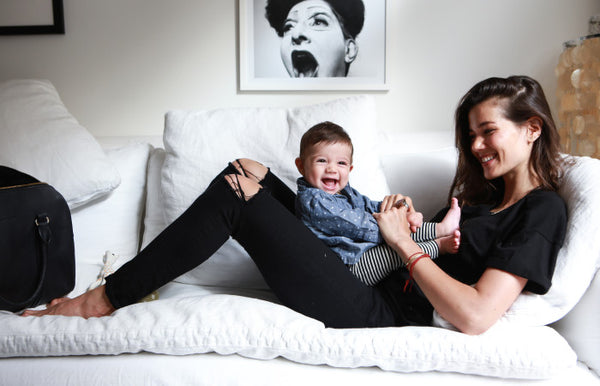 Sheila is an international model and lives in NY. She has modeled in Paris and New York for the most exclusive brands such as Balenciaga, Chloé, Louis Vuitton, Givenchy, Gucci, Yves Saint Laurent... She has been featured on the cover of many renowned magazines including Harpers Bazaar and in 2013 she won the 'Woman of the Year' award from GQ magazine. Today she tells us how her life has changed with the arrival of her baby Lucius and gives us some advice on motherhood.

How did your motherhood change your lifestyle?
How did you manage to balance it with your work, couple and social life?
Having Lucius in my life made me slow down work to be able to spend more time with him and see him grow. There is not much left of night out life, but it seems to be a great thing since I feel more rested and I can enjoy more my mornings. Workouts with my baby are way more fun than alone!
I see my friends and family more often than before since they all want to see the little guy.
What are your favorite things about being a mother?
Waking up next to that little face every morning, and the most, the reciprocal learning.
How did you manage your body changes since the
beginning of your pregnancy?
I had a very healthy pregnancy which allowed me to exercise until the 9th month. I was doing Pilates, yoga and cardio as my pyramid work out.
What is your beauty & sport routine?
I use natural products, sulfates and pharabens free. Coconut oil is my favorite product. It's the best all in one. For my sport routine I do yoga and Pilates with Lucius, long walks and riding my bike to work.
What are your favorite spots to eat/drink in town?
The Heyward, Isa, Shanty Shack, the Matcha Bar, 1 or 8, all of them in Williamsburg.
What does your Josefina contain?
Diapers, wipes, toys, an extra outfit for Lucius, coconut oil, lavender spray, lip balm, my sunglasses, my Comme des Garçons wallet, headphones, iPhone and keys.
Tips for mums to make the best use of theirs Josefina?
The fact that it separates in 2 bags makes it perfect for traveling as you can use the leather bag as your personal bag and the insert for your baby.
Is there any mom's that inspires you? If so, who
and why?
My mom of course, Kate moss, Carine Roitfeld, Julia Restoin Roitfeld, Giselle Bundchen. They are all hard workers and they all seem to have found the perfect balance and happiness between work and family. They are all strong and successful women.