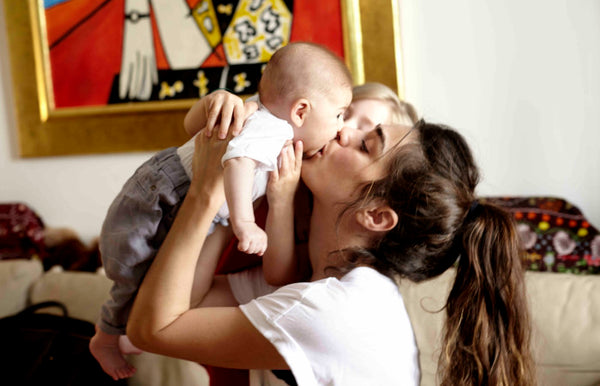 Olivia is one of the most recognized actresses of her generation in Spain. She comes from a saga of artists, which is why cinema and music have always been part of his life. When she was very young, she decided to dedicate herself to the world of acting, collaborating on numerous projects for cinema, theater and television. She currently lives in Madrid and is the mother of two children, Vera and Eric. She has decided to dedicate herself for the time to the education of her children and she chooses punctually cinema and theater projects.
How did your motherhood change your lifestyle? How did you manage to balance it with your work, couple and social life?
My life and my priorities have changed deeply. I have decided to spend as much time as I can with my children since childhood years pass by very quickly. In this moment, I am the real me and what I am going through is the most important part of my life. My partner and I are building our life project. Regarding work, I made the decision to only commit to projects that allow me to raise my children.
We do miss enjoying some wine here and there but what could be more fun than going out as a family with two kids, a stroller, toys, all geared up! (laughs).
There is a time for everything in life and at this time I am very happily going through this unique adventure!
What are your favorite things about being a mother?
Seing my kids grow and become independent adults, it's a trip!
To have the opportunity to choose the labor I wanted for myself and the empowerment as a women.
How did you manage your body changes since the beginning of your pregnancy?
I accepted my body changes in a very natural way. I was patient and respectful with the body has delivered the most precious things in my life.
What is your beauty & sport routine?
I practice Yoga a lot, it helps me to connect with myself, to get more flexibility and to recharge the batteries.
As for my beauty routine, I use a lot of natural oils: Almond, Calendula, Coconut… during pregnancy the skin becomes more sensitive and needs extra moisturizing.
Your favorite spots to eat/drink in town?
I like eating at Santo Restaurant & Deli on Sundays, they have an incredible brunch! It's in Calle Caños del Peral 9 in Madrid. We also love Mandolin Aegean Bistro on 2nd Avenue in Miami. We moved to Miami last year for a few months.
What does your Josefina contain?
My JOSEFINA bags contains things from the three of us: mine, Vera's and Eric's. What I like is that I can find everything I need easily which is perfect in an emergency.
Is there any mums that inspire you? If so, who and why?
My close friends that are also moms. Maternity has helped us become more involved, understanding and generous with each other. Sharing our experiences and moments as women is very healthy and liberating!