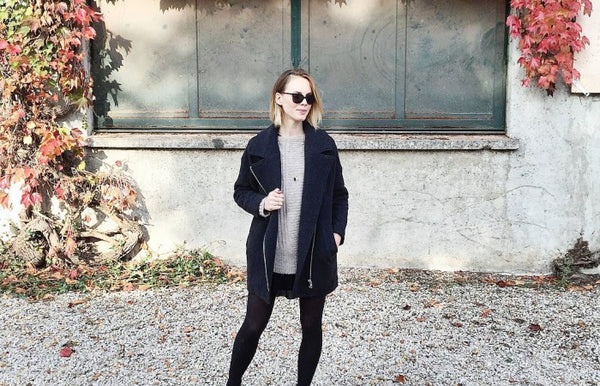 Visionary and passionate, Mathilde Lacombe has become one of the most important influencers of the beauty industry and a successful business woman.
She began her professional journey as a beauty journalist for ELLE magazine, but her popularity came through her famous blog La vie en blonde . This platform drove the fabulous growth of the beauty boxes concept that she imported into France.
At almost thirty years old, she is the currently Editorial Director of Birchbox Europe and the mother of three children. Mathilde is the Josefina of our April issue.
How did you come up with the idea of ​​BIRCHBOX?
When I created ten years ago my own blog, La vie en blonde , it soon became one of the beauty blogs with the most visibility and I started to receive all these beauty products to try on every week. That is how I got to find out what were the best products for my skin and so I thought it would be a very interesting idea to offer the possibility to try beauty products to all women (blogger or not). That's how the concept of the Birchbox was born in 2011.
When did you decide to stop your career in journalism and work full time in this fabulous entrepreneurial project?
Everything went really fast… I met my business partners at the end of 2010, and in May 2011 we were sending the first box to fifty readers of La Vie en Blonde.
After 3 months, we had more than 2000 subscribers so it was obvious that I needed to invest 100% of my time in Birchbox. My experience at ELLE magazine was a tremendous opportunity but I do not regret my decision of leaving the magazine!
Do you have new business ideas?
Let's say I have wishes and ideas…!
Being a blogger, a journalist, a business woman and a mother of three children, how do you balance your life as a couple with work and children? Is there a secret?
No secret, just a very very very generous husband! I think that in order to find a balance, you have to make concessions and focus on the things that are essentials and that make you happy.
Has maternity changed your lifestyle?
OUI bien sur! The daily life is very busy with 3 young kids but I make sure to find time for myself and my partner. Which is precious time!
What do you prefer of being a mom?
All of it. By becoming a parent, I have rediscovered new things with the innocence of a child, I have learned to take a step back. Before maternity, I was an eternal unsatisfied, today I live daily and I fully appreciate what I have in life.
How have you managed the changes in your body since the pregnancy?
I have been pregnant three times in three years. I love being pregnant and I am very thankful for my body for letting me carry the babies and for giving birth.
My body has changed but I feel more fit than before my pregnancies. I eat balanced, I go to bed early, I do sports… I have a healthy lifestyle to keep up with the hectic rhythm of life!
During your pregnancies, what were your favorite styles?
My uniform was: H&M maternity jeans, tight tops and oversized jackets.
What are your favorite places to eat or drink in Paris / Reims?
In Reims, I like the Coq Rouge, a wine bar that serves cheese and charcuterie boards… my guilty pleasure! The only thing is that there are always full, so it is not necessarily ideal for a romantic diner! In Paris, I like the fresh food at Café Marlette and the juices at Bob's juice. With the children we go to Schwartz.
As for the holidays, which 'kid's friendly' destinations would you recommend?
The Arcachon bay.
What's in your JOSEFINA bag?
Many things! I have the large size so I tend to fit my whole house in there. Wipes, a mini nappy to change the babies anywhere, pencils, small snacks, arnica gel, a cotton baby cloth that I use all the time…
What moms inspire you? and why?
My mum! I have always been close to her but since I became a mum, we are even closer. And of course, thesingle mom (and dads), they have my eternal appreciation… I do not know how they do it all by themselves!