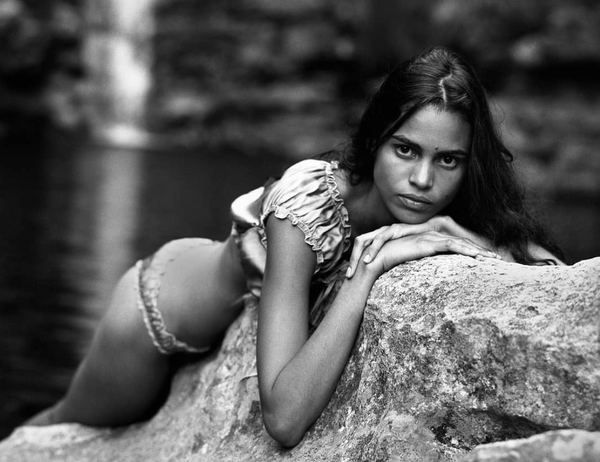 Mariana Santana is Brazilian, international model with natural and authentic beauty. You may have already seen her on the cover of the most prestigious magazines like Vogue or Harper's Bazaar, as well as on the catwalks or posing for the biggest fashion brands. In 2019, she became the mother of a beautiful little girl named Mariri. She is the Josefina of the month of August.
You are an international model and a mother; how do you manage to find a balance between your professional trips and your family life?
Understanding that I can't always have it all. There are times when I have to take time off to take care of my personal life, to be with my daughter… There are other times when I work and I miss her a lot. Sometimes I have the opportunity to work and have it in the same city as me. That's what makes me happiest: being able to work and having her there.
What is your fondest memory of the show?
There are plenty. Yesterday I was thinking about 2013; I was part of a group of models, we were the first Latinas to parade for Maison Céline. My makeover was done as a tribute to the Cholas. It was very special. I remember when I first started walking in high fashion, I felt uncomfortable because there were no other Latinas walking with me. Now I still see a lot of them, and that's something that makes me very happy.
Do you have any fashion icons?
There are a lot of people I admire in the fashion industry. I would say Anna Sui is my fashion icon. I had the opportunity to work with her on several occasions and get a glimpse of who she is. I admire him as a person and as an artist. I love his designs, especially those from the 90s.
How would you define your dress style during pregnancy? Do you have any advice for other moms?
Bohemian-camping (laughs)!
Reuse, recycle, be minimal when shopping. After all, our body is constantly changing during pregnancy, and it's a short time in a person's life. There is no reason to buy too many clothes. What are we trying to prove, and to whom, when we have a wardrobe of 100 clothes (if we are not designers, collectors, etc.)? I've used other people's old clothes, I've been to vintage shops... There's an amazing vintage shop in my hometown where you can find designer pieces for pennies. My favorite maternity dress was a Missoni bodycon dress; it has a green, almost transparent lining, and the dress itself looks like a colored net. This dress brings together all the colors of my favorite shades, which mix together. Right after I gave birth, one of my best friends got pregnant and I gave her the dress.
How did you take care of yourself during your pregnancy (diet, sport, care)?
I took care of myself by moving to the mountains. During the first trimester of my pregnancy, I took surfing lessons, did the occasional yoga for pregnant women (offered by the government to all pregnant women in the city I moved to), and pilates . I have read and heard many testimonials, always positive, about natural childbirth: the father of my child and I took childbirth classes with our midwife, we watched films on natural childbirth, we practiced the Spinning Babies moves together, and I'm living proof that it works! A few days before the due date, I felt Mariri move in my uterus and we used three of the exercises to help her get back into the optimal position for a natural birth.
Do you have any beauty tips for pregnant women?
Surround yourself with people who love, care, and respect you and your decisions about your pregnancy and childbirth, and hydrate your body LOTS.
What do you like most about your role as a mom?
To see my daughter flourish.
What do you find most difficult as a mom?
Sometimes being away from my daughter, because my wish was to see every second of her evolution.
Can you describe your daily life to us in a few words?
Because of my job, which requires me to travel constantly, I constantly change the order of my activities, but my routine consists mainly of similar activities: spending time with the people I love and who inspire me, eat tasty and nutritious food, practice different types of physical activity (every place I go allows me to do something different), see art, express myself creatively, read... pay attention to the time I spend on Instagram so I don't get addicted to it... 🤣🙃☺️.
Which Josefina model did you choose and why?
I have the Josefina Beltbag in khaki; I chose this model in particular because it fits my lifestyle. The color literally matches my entire wardrobe. It's a belt bag, which means I can wear it to music festivals and raves (my favorite party style), I can wear it as a shoulder bag, or on one side, if I roll the metal chain several times and hides it inside the bag, it looks a bit like a baguette bag.
What's in your Josefina?
Contact lens solution, lip balm, sunglasses, credit card, Covid certificate, AirPods, iPhone, phone charger, hash/weed or both, loose tobacco, leaves, lighter, paper filters, rubber band for hair, ID card, keys. I have been using the Josefina bag almost every day since I received it!!! I love it so much 💖💖💖💖💖 Thank you! I'm really grateful.