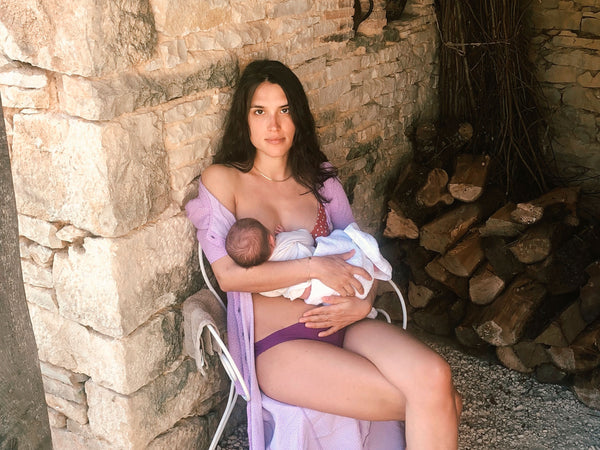 Louise Damas, the young Parisian jewelry designer, perfectly embodies the chic French elegance and femininity.
Her passion for jewelry began when she was still studying literature. At that time she couldn't find any design that fitted her sense of delicate aesthetic and simplicity, so she decided to start designing her own pieces. Since then and inspired by her readings, Louise creates poetic and urban collections born from heroines of literature, that adorns the most authentic Parisian women.
Living in Paris, just a stone's throw from her boutique Passage Doré, Louise Damas invites us to discover her unique world, full of creativity. She is the mother of Madeleine and she is the JOSEFINA of our June issue.
Louise, you created your own jewelry brand Louise Damas in 2012, while you were still studying, could you tell us how did
all start?
I was still studying literature and I started making jewelry for my friends and family. They liked it, I went on to sell some of them while studying and I ended up making it my profession!
What is the story behind the very first piece you created eight years ago?
It was the Salammbô collection, inspired by the heroine of Flaubert, an oriental princess who wears rivers of pearls in her hair. I wanted to take inspiration from it to create my first jewels.
Where do you find your inspiration?
Mainly in my readings, but also in every detail around me, the women who surround me, in my travels, everywhere in fact.
What is your definition of elegance?
I don't have a particular icon. I'm surrounded by a lot of women, who are all very elegant in their own way. I don't think there is a fixed definition of elegance, it is all about self-confidence and loving what you wear.
How would you describe your style?
I have a pretty simple style, rather vintage. I like to feel good in my clothes, comfort is very important to me. I often wear jeans and boots, or long dresses in the summer.
Louise, you just became a mum for the first time, how do you manage to balance motherhood with your work, your partner and friends?
For the moment I am working from home because my daughter categorically refuses to take the bottle, so I continue to breastfeed her while working. It's a bit complicated but I finally accepted it and I stopped putting pressure on myself about it. I'm lucky enough to get a lot of help from those around me, my family and my partner's family. And my partner is a real daddy hen, we share all the tasks. Even if we are a little tired we go out and invite our friends to dinner from time to time, because it is very important for morale!
What do you like the most about being a mother?
Spend time with my daughter and watch her grow up and evolve.
How did pregnancy affect your style?
I was only wearing dresses, even in winter. I hardly bought any maternity clothes, except for pants the last month. I wore sweater dresses and wrap-over dresses that I already had in my dressing room, with tights whose elastic was cut at the waist.
What are your favorite spots in Paris?
My shop Passage Doré, is located in République neighborhood
and not far from the Canal Saint Martin. I love to stroll along the canal because there are lots of nice streets, bars and cafés all around.
Which JOSEFINA do you have and why did you choose it?
The Josefina large model in black, for her elegance and great capacity.
What does your JOSEFINA bag contain?
I use it as a diaper bag, its capacity is perfect, and its many pockets allow me to keep everything tidy!
Who inspires you as a mum?
My own mother, because she was and still is great in this role, and today she is also perfect as a grandmother!