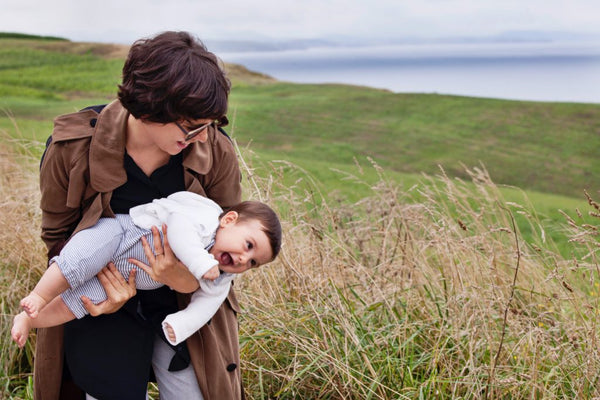 Her creativity and detail-oriented vision have made Lorena Serrano one of the most fresh and up and coming art directors in Spain. She co-owns Fikera&Quiche with her partner Davide Fichera, a full-service branding agency specialized in fashion, lifestyle and retail based between Madrid and Brussels.
Passionate and innovative, Lorena used to draw glasses when she was a kid as she comes from a family of opticians. Due to her passion for this accessory and her vocation for design, she founded Nina Mûr , a high quality wooden eyewear brand that combines high technology and craft.
Lorena is the mother of 10 months old Luca and she is the JOSEFINA of our December issue.
Lorena, you have your own Branding agency Fikera&Quiche and you launched your beautiful wood glasses brand Nina Mûr.
How do you balance your life as a couple, friends and work with your kid? Is there a secret?
(Hahaha) I wouldn't know how to explain myself answering this question… I juggle with everything. I work in the mornings and late in the evenings. I do have Luca's father help but I still work at crazy times.
At the beginning it was complicated to manage life with work but now I have found the way so far. I actually think I found a good rhythm!
You are Luca's mom since eight months, Has maternity changed your lifestyle?
Having a baby is a real life change, it's neither good or bad, it's just different. It changes your priorities, your time to yourself, your social life and your work time. I was very conscious about that from the beginning so I try to enjoy every moment, time flies and I want to take as much as I can from it.
I am clearly more tired than before maternity but at the end of the day it has its payoff, to see my little one making his first achievements and evolving into such an adorable little person.
What do you prefer of being a mom?
What I like the most it is to discover Luca's personality, to be there while he is growing and to see how he is evolving. Playing with him, tickling him and seeing his smile every morning, that is everything for me. Sounds whiny but it is the truth! I discover things and grow everyday with him and I particularly love making him laugh!
Has pregnancy changed your style?
Unfortunately, yes it has. I tried to find my way around it by buying larger sizes but it didn't work. I went for comfortable clothing since I couldn't find things that I liked. If I had the time, I would like to start a brand for pregnant women that wouldn't manufacture just leggings and the skinny jeans with the elastic… but I already have too many things to work on! It is also a few months using maternity wear, so I didn't want to spend a lot of my money in clothing. I ended up resigning myself on getting a few things I liked and combined them with oversized pieces I already had.
What are your favorite places to eat or drink in Madrid?
I generally take Luca everywhere I go, even to work and work interviews. He has already been with me to shootings and restaurants and there is no problem. We've been to Hermosos y Malditos, La Carmencita, El Rincón (in Malasaña), El Huerto de Lucas, Olivia te cuida, La Pescadería, Magasand…
As for the holidays, which 'kid's friendly' destinations would you recommend?
This year we went to Suances and we really liked it. I think the North of Spain is amazing particularly for the climate and the nature.
Italy is also a must-go for us, we love to stay in a small beach-front house, it's pretty pleasant specially the sea of ​​Puglia, the most beautiful sea in Italy… When he grows old he will love eating pizza and pasta all day long!
What's in your JOSEFINA bag?
Everything! My JOSEFINA bag is amazing and super versatile. I use it for all I need for Luca (change of clothes, diapers, wipes, changing mat, some toys, muslin…) and also my personal things (wallet, my phone, keys…).
How do you use your Josefina?
It depends… Generally I carry it attached to the stroller, but I also use it as my personal bag and I take my laptop, charger, graphic tablet, notebooks… The bag is so functional that it is perfect. On top of that, it got with most of my outfits and it's super stylish.
What moms inspire you?
I've been recently reading a lot about babies and kids, how their brain works and how they evolve and I was really impressed by María Montessori. She was woman and mother ahead of its time, who had defended the baby's rights but also her unique individuality – I think that's so important for us mothers and we shouldn't forget about it.
My mother, my sister, my aunt and my grandmother are women that inspire me particularly by their strength, energy and constant support.
In general, I appreciate all mother that work hard to grow their children with respect and succeed to carry on with life despite of all the work it takes to be mother nowadays.