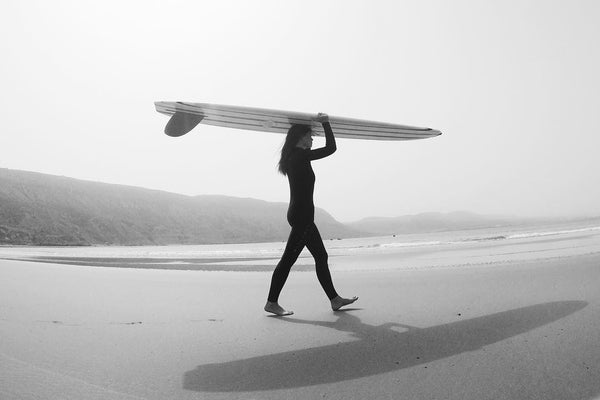 Julie ( @juju_pellet ), is a surf lover and a Parisian working girl living in Montmartre.
After studying Marketing and Sales development in Paris, Julie integrated Facebook while it was still a start-up. She quickly have been immersed in the world of social media where she blossomed by working all around the world. Her energy and determination led her to become the Instagram brand development lead in Southern Europe, the Social Media that is actually revolutionizing companies' communication and business models all over the globe.
While she is off, Julie is always in the move: you will find her in a concert or in a terrace in Paris, having some Surf adventures with her husband and of course, spending time with her adorable son.
Julie is the mother of Pio and she is the Josefina of November!
Julie, you work at Instagram as Brand Lead in Southern Europe, could you please explain us a little more about your job?
For the last 3 years, I've been in charge of developing the presence of Instagram in France, Italy and Spain. I have two core missions: The first one is to evangelize the opportunities that Instagram offers to the community and to the Brands. My second mission is to listen carefully to all feedback I receive from the market and share them with our Global team based in the US to influence our product roadmap: which means improving existing features or creating new ones.
What do you like the most about your job?
I have the chance to meet so many inspiring people and brands! What I love the most in my job, is to create initiatives to share those stories that inspire people to actually do things. This is why we've created the 'Salon des Instapreneurs' with my team last year in France. We have celebrated people who transformed their passion into business thanks to Instagram, young entrepreneurs, female entrepreneurs and made in France brands.
When and how did you decide to join the social media family?
I've joined Facebook in 2010 when it was still a start-up. I got the opportunity to grow and join different teams all-over the world. I've spent some time in Dublin, Singapore and Sydney. Three years ago, I got the exciting opportunity to join the Instagram team and come back to France. We were only 400 people worldwide at that time and a team of 4 based in France!
While discovering brands on Instagram, what inspires you the most?
Authentic Brands! They are the one that are not only showing their products but also talking about their story, their values, showing their manufacturing secrets, celebrating their employees, clients, ambassadors. They are sharing with us their successes and inspiration but sometimes, also sharing their failures or challenges they are facing. It creates a special bond, and I can't stop checking on them to know more!
Do you have fashion icons?
Let's say that several women are influencing my style like Kate Moss, Mira Duma or Sienna Miller.
What does elegance mean for you?
It's an attitude. Someone with self-confidence (but not over-confidence), showing respect towards anyone in any circumstance and the ability to get things done with a lot of simplicity. Less is more. For example, I really like Brigitte Macron's style and elegance.
What is the secret about your style?
Suits and earings are my things!
How do you see yourself in 10 years from now?
It's always a question that I'm failing to answer as I'm a very bad planner and really good at seeing or creating opportunities when I see them. So let's say that I hope I will be as passionate about my job as I am today – maybe leading my own company, and if I'm successful at convincing my husband, we will be then a family of 5!
Julie, you just became a mom for the first time, how do you manage to balance motherhood with your work, your couple and friends?
When Pio is born we've made a deal with my husband on our new Family lifestyle: We are inviting Pio to be part of our lives. This means that we haven't change to be who we are and do the things we love like seeing our friends & family, enjoying a great dinner in a restaurant or traveling. We've been able to adapt our life without changing our clothes. I'm also very focused on being a Wife and a Women, not only a Mother for my husband. But I can proudly say that I have the best partner in crime – My husband! We can count on each other whenever one of us needs it, especially during peak time at work especially when I have a business trips abroad.
What do you like the most about being a mother?
Have you already heard a baby laughing? like a real good laugh? Playing with Pio and making him having a good laugh is priceless… Seeing this smile everyday makes you just realize how good the life is!
How did pregnancy affect your style?
Except for Pant and Overalls, I didn't find pregnancy clothes that were matching my style so I've been buying 'normal' clothes – especially dresses – in one extra size instead. As I was pregnant during winter time, I loved wearing long dresses with boots – especially my mustard yellow dress tied with a belt!
How did you manage your body changes since the beginning of your pregnancy?
I loved being pregnant! I was pretty lucky to not have been sick at all. I liked to see my body change even if at the end I took on 17kg! During all my pregnancy up to 3 weeks before giving birth, I kept practicing sport with my wonderful Coach Vincent! This gave me so much energy to maintain a high pace at work, between my Business Trips in Europe and all my speeches. This was probably the hardest: During Conferences, when giving a speech about Instagram for 45min, I was already breathless after the first 3 slides!
You are a passionate surfer, Could you please tell us a bit more about your beauty & sport routine?
Would love to be surfing more! this feeling when you're in the water on your board is just exceptional. But my first passion was Karate. I got my black belt at 16 years old and competing at national level for 15 years. I love and need to practice sport to feel good in my body but more importantly for my mind! As I'm back at work, I'm currently using my lunch break three times per week to either do a session with my coach or to do a soul cycling session at Dynamo!
What is your favorite thing to do with Pio in Paris?
We are living near Montmartre so we love to walk around, see, listen, smell all the good things from the area. Pio is still a baby so we are enjoying for him eating oysters & sea food on La Mascotte's terrace, enjoying a brunch at Café Marlette, watching a game at the Pigalle Basketball court.
Do you have in mind any child friendly vacation place?
Pio is still very young so he has time to learn surfing but I remember a surf trip we did in Sri Lanka at Mirissa 5 or 6 years ago where we met a couple with a baby of 18months. The mum and the dad were surfing alternatively to always have one of them playing with their baby on the beach. The baby was also playing on the board and trying to stand up! This was incredible to see and I really hope we'll be able to share moments like this with Pio soon!
Which Josefina do you have and why did you choose this one?
I've always been very bad at packing my bags or luggage. They were always overweighted. So 2 years ago I started to get smaller bags to force myself packing only the essential. And this technique works so well for me! So I have selected a Josefina Black in Medium size and this is the perfect size as I'm using it every single day!
What does your JOSEFINA bag contain?
Mostly Pio's essential– layers, milk bottle, cream, his fox (doudou). But during the weekend I'm using it as my personal bag as well and I'm adding my favorite sunglasses, a red lipstick, keys, credit card and my iPhone 😉
It contains diapers of course, lipstick, keys, wallet, bandaids, a small bottle of water, hand cream, crayons and drawing paper from OMY.
Do you use it more for work or for the baby stuff?
I use it mainly for Pio (and for me during the weekend) but I'm actually thinking about getting the backpack to put my computer and some business papers as I'm riding a scooter every day to go at work.
Do you have any inspiring mum? and why?
I'm born in a family where Mums are Entrepreneurs, business leaders and are taking care of their family at the same time: My mum and my 2 grand-mothers. They are such great models for me. They really showed me that you can work hard, actually ENJOYING working hard to achieve your goals and raise a Happy Family. Very often – in 2018! – I still hear judgments about working mums (leaders, entrepreneurs) and how this is not good for their kids. I think that what counts the most, is how we are bringing happiness and joy in our home and there is so many ways to do it! I'm so glad to have a mum who taught me to work hard towards my goals/my dreams, empowered me since I'm young and raised me in a happy place!