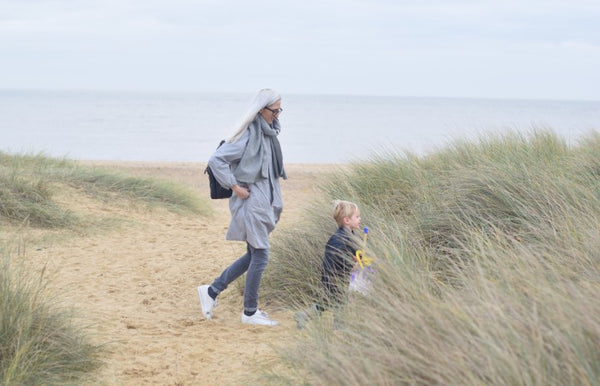 Fiona is a graphic designer and the creative director with a cool and minimalistic vision. She has collaborated to brands such as Tokyobike and madedotcom to name a few, while working in branding consultancies for 8 years. In 2015, Fiona and her husband launched Nor-Folk : a minimalist design studio that creates new product lines and brand collaborations, including graphical apparel for men, women and children, as well as selected homewares. Her son Stanley is the face of the Nor–Folk's children's wear collection. Together, they are the Nor–Folk. Fiona is the JOSEFINA of our May issue!
What do you like the most about being a mother?
The overwhelming feeling of love and pride when I see him. Thinking I co-created that little man. He has a smile that lights up a room and nothing pleases me more than seeing his happy face when we walk up to the train station whether than be in rain or sun and he squeals with delight as the train arrives into the platform. My favorite thing to do with Stanley is to simply watch him sleep. At the weekend, he always drops off in my arms and it's a great opportunity for me to slow down and enjoy him being him. He is such a busy boy, but there is something so special about our snuggle time.
How did pregnancy affect your style?
I have never put on weight at any other point in my life other than pregnancy and I think I felt resentful of buying things that I would no longer need once I'd had Stanley. Consequently I spent a lot of my pregnancy in leggings and oversized tees. I've since found a couple of brands who create clothing that can be worn before, during and after pregnancy which would have been invaluable to me at the time. Fortunately, I dress for comfort and like oversized clothing so my style didn't feel much different during pregnancy.
How do you manage to balance motherhood with work and personal life?
I'd like to say I've got that figured out but I definitely don't. One big bonus is that Bobby, my husband, is also my business partner for Nor–Folk and The Click Design Consultants (our graphic design consultancy). So we work together all the time and happen to be best friends too. If either one of us are feeling a bit overwhelmed the other will pick them up. But largely our job is our passion and love, so even when we're working late at night, it doesn't feel like work. Nor–Folk in particular is really focused around our lives, our family and our experiences, so it all integrates seamlessly. Stanley spends the daytime with either set of grandparents, out in the countryside, and we collect him from our city center studio base at the end of the day. He definitely gets the best of both worlds! Our holidays end up being a bit of a merge of work and play too, we're going to Paris and Stockholm this summer and plan on arranging a few business meetings to coincide with Stanley's nap. Whilst I work 5 days a week, I couldn't imagine leaving him overnight.
Is Creative Director of Nor-Folk your full time job?
Yes it is, and actually it was never the intention. When I set it up a year ago, I thought I'd work a couple of days here and there, but the opportunities and growth has just been beyond my imagination. Nor–Folk is a graphic design led lifestyle brand and we sell apparel and homewares with more than 50 stockists across the world. I manage everything – the photography, the PR, the website, the content, social media, production runs and customer services – it keeps me pretty busy!
Tell us more about the place you live, a factory, did you move in while still a factory or did you remodel it?
We live in a converted penthouse apartment in a factory. The top floor was the drawing rooms and the people who worked here designed the Titanic's propeller and Channel Tunnel's drilling machinery. There are 7 penthouse apartments but we're lucky that we are at one of the ends, so benefit from the double aspect windows and views of the city skyline.
We've lived in the building for nearly 7 years but moved from a middle apartment when this went on the market. So far, we've done quite a bit of re-modeling to make it fit our needs. In particular we've fitted a new kitchen, then and replaced the staircase. The next job is to move the downstairs bathroom and install an outside shower. I'd like to say I'd be done by then but I bet I'll be ready to do something different. With the wonderful world of Pinterest, Instagram and the web generally your eyes are always opened to new products and concepts.
Where do you see yourself in 10 years?
Oh wow that is a very good question. Professionally, I'd like Nor–Folk to be a profitable and self sustaining business that allows me to continue to collaborate with brands such as Tokyobike and Made.com . I'd also like to have an established adult's collection too.
We are looking to buy a period apartment near a beach (we have somewhere in mind) that we will let for holidays and enjoy ourselves. It will still feel very minimalist in its style but have a heritage nod and so a touch less Scandinavian. Perhaps more Parisian.
But do you know what, this first year of business has absolutely exceeded my expectations, I genuinely wake up each morning excited to see what emails and proposals have been suggested, so really I don't know where I will be in 10 years.
What are your favorite spots to eat and travel?
Stanley and I are the same when it comes to eating. We love meat and carbs, so tapas is always a good shout. I also have a handful of independent coffee shops that I frequent, Dandy Horse in particular is great for bagels and a good baby chino.
We have only been abroad with Stanley twice, Paris and Copenhagen. We absolutely loved Copenhagen and found it really child friendly for our fidgety boy. We are expecting a similar experience in Stockholm in July. Bobby and I have both been to Sweden before Stanley was born and have very fond memories. I'm sure it will feel different again with a child. We are planning on meeting up with our friend Petra of Mini Mocks and Kristen of Gardner & The Gang when we're in town. In less than two weeks, we travel to Barcelona for five days. It's our first proper holiday this year. I cannot wait.
What does your JOSEFINA bag contain?
I debated for a while whether to use my bag as a changing bag as it fits the purpose perfectly but given the structure and beautiful simplicity it felt a waste to just use it at weekends. I've opted, instead, to use mine as a work bag. My dad always took a suitcase to work, he was a trading manager for land and I always admired how sharp he looked when he left for work. Before I got my bag I had a cross body that had my money, phone, keys, another leather backpack for my laptop and a bigger French Connection bag for my camera and lenses. Now I have consolidated it all down to one. The monogram in white is absolute perfection and I really don't use that word lightly. I deliberated on typefaces but was really pleased with the sans serif face I thing. It's so subtly beautiful, and a monogram can look ostentatious but the detail is so finite it looks gracefully restrained. I love going for a meeting and just gently placing my bag down only for someone to ask about it. It's modest and understated, two important qualities to me.
Do you have any inspiring mum? and why?
Yes, I have a friend, who I'm not going to name but will describe. She has two children and her husband works away during the week. One of her two beautiful children has a couple of disabilities but she sees him for who he is which is a beautiful boy. She also runs her own business and is positive, loving, passionate, kind, thoughtful and supportive. I've had friends over the years who will moan, as we all have had about trivial things but this friend in particular helps me see the good in all of the little details and makes me a better person.