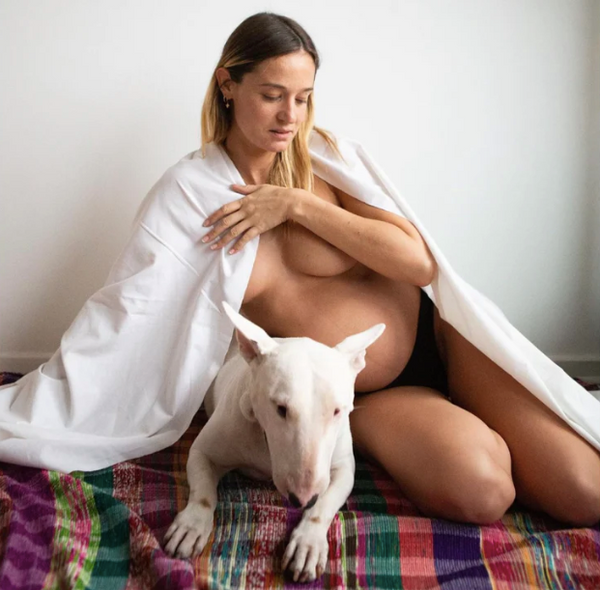 Clara began her life in Provence, in the south of France, and grew up for a few years under the Spanish sun before moving to Paris. Model and artistic production director of La Petite Grosse, this great creative became in January 2022 the mom of little Isaiah. She is the Josefina of June.
Clara, you appear very passionate about your job as an art director! Can you tell us a few words about it? What is your background?
Art direction is a broad and vague job, isn't it? It's a job that is based on one's own artistic experience in my opinion. Very quickly I understood that it was necessary to be in the practical. Thanks to the sandwich course, I concentrated my apprenticeship in 2 years. Then I worked in several advertising agencies to get to know myself professionally.
What do you like about this environment?
To be able to make a living from an artistic profession, and to have the opportunity to create even with restraints.
You are also a model; do you have any advice on how to reconcile several jobs?
I make one my first choice. I thing to be more of an AD than a model. Maybe I have more to express that way.
Can you describe a typical day in your life?
In addition to my freelance work, I organize my day around my weekly routines: Wednesday, beauty / Saturday, family / Sunday, Simone [Clara's dog].The rest of the time I look after my son and my dog. I help my boyfriend with his work whenever I can. And I work from time to time with some brands.
A few weeks ago you became the mum of little Isaiah; how do you find your new balance with the arrival of a child?
Thanks to my freelance status, I was able to slow down my assignments to be with my son and live his first year with him. It's a luxury to be able
to do that.
What do you like the most about being a mother?
The connection I have with him, this unconditional love.
Are there any people who inspire you as a woman and a mother? How?
No one in particular. Mothers in general. From pregnancy to parenting. I realized it when I went through this stage of life. We are powerful.
Your photos are very artistic and warm! Where do you find your inspiration?
Thank you very much. I am inspired by the present moment. My eye works like a machine in order to find the right angle, the right light and to share the atmosphere....
What are your favorite places in Paris?
Even if I don't stay in one, the hotels seem to me to be a parenthesis in the city: the Mob House in Saint-Ouen, the Amour Hotel in the 9th arrondissement...
I also like to stroll in the parks and along the banks of the Seine, the nature in the middle of the city.
Do you have any beauty tips for pregnant women?
Moisturize, that's the watchword!
Shea butter and water from Mont-Roucous.
Let's talk about fashion; what were your favorite pieces during your pregnancy?
I've completely detached myself from the physical appearance. The goal when you're pregnant is comfort: an extra-large t-shirt over maternity leggings with trainers. It's been a very relaxing time in that regard.
Which Josefina model did you choose and why?
I chose the "JOSEFINA LARGE KHAKI" bag because of the compartments, which are very practical in a mother's life where everything must be accessible.
But above all I love the shape and the khaki color.
What's in your Josefina?
It's mostly Isaiah's bag: diapers, wipes, clothes, a toy and my AirPods.