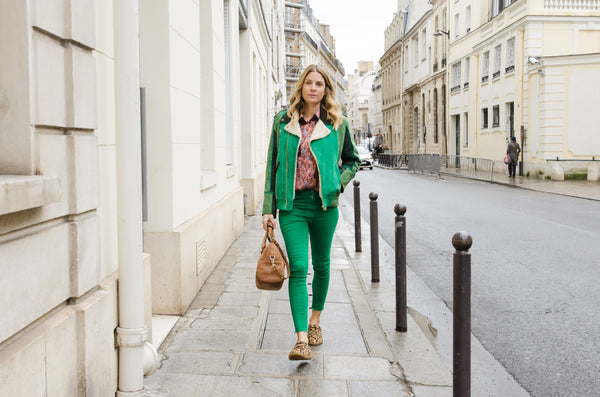 Passionate, creative and determined, Alix Petit is living life in the fast lane.
She was only 22 when she founded Heimstone, a Parisian fashion label inspired by the landscapes she discovers traveling around the world since her childhood. Her free and bohemian spirit drives her to create colorful off-trend collections, playing with an androgyne style and combinations of different fabrics.
Alix is ​​the mother of Ellis and Panda, and she is our Josefina of May!
You have your own fashion brand, in which you are the creative director. Could you please tell us the story behind Heimstone?
I started Heimstone in September 2006, just after working for a year as a knit designer for the french stylist Michel Klein. At this time I was 22 years old and crazy enough to decide to launch my own brand with my business partner (she left Heimstone in 2009). Back in the days, we were 2 young girls, with a pretty strong mindset and we decided to launch Heimstone: a unique dress brand for cool girls! Things were easy at that time, we launched our first winter collection in January 2007, and it was a success.
How do you describe your collections and the Heimstone universe?
The spirit of my collections hasn't changed too much in the last 10 years, because the brand and how it looks, is very close to me, to my vision, my lifestyle. Heimstone is definitely the expression of myself, it's not pretending or trying too hard to be cool and fancy. It's actually very authentic. The mix and match of fabrics and prints are definitely the brand signature.
What has changed a lot though is the silhouette, the brand has been growing with me, I am not 25 years old anymore, so the silhouette is more mature and more define I would say.
You draw your own patterns, where do you find your inspiration? What are your favorite fabrics?
Yes, this is my favorite part when I start working on a new collection: designing the prints. It's actually my starting point. I start with one print, then another, and another, and then I had all the plain fabrics, laces and so on, and at the very end, I design the styles!
My inspiration can come from anything! A travel, a painting, a sunset, a picture in a National Geographic, a memory from my childhood.
Absolutely anything that talks to me that day!
Usually one collection leads to the next, sometimes I like to say that Heimstone 22 collections (already!) are in fact just 1 big collection. I have so much fun wearing some prints or styles from the very beginning and mix them with the new ones!
What is the elegance for you? and what is your secret style?
Elegance is being yourself. I feel that if you are confident on the way you are, with your style and your ideas, everything works. You can wear a trashy pant with super loud shoes, if you feel good in it, people will feel it too!
What is your decoration style? What does inspire the decor of your workshop?
It's same as my collection, I am like a sponge, so everything I like, I take it, and just mix together. It works!
What are your plans for the future?
I just had a second beautiful daughter, Panda, almost 3 months old, and Ellis, almost 4 years old.
I love being a family, my husband is turkish and Australian, we used to live in New York, we both have our own companies, we love to eat, travel, discover new things, we love our routine as much as we like to break it, so yes, I guess we want to keep this on going even with a second baby.
We want to buy a countryside house in France to go in the weekend, relax, cook some good food and so on.
Regarding Heimstone, we have big plans for our online store development this year, we want to keep on growing the company, make even more beautiful collections and just have fun!
We are also working on some super exciting collaborations!
Alix, you just became a mom for the second time, do you find anything different this time? Or are you planning things differently for this second baby?
Yes, I just had my beautiful Panda end of January!
So far, we got very lucky because, she is super easy, she eats well, sleeps well, it's just a dream to have another baby!
With my husband we always agreed on saying that we won't change our lifestyle for our kids but they will adapt our one. So far so good!!!
How do you manage to balance motherhood with your full time work, your couple and friends? Is there any secret or rule?
I think the rule and the secret is to find a balance in between all of that.
In 24 hours you need to make time for your kids, your husband, your friends, your work, yourself and your workout and get 10 hours of sleep per night ahaha! It is not easy everyday, but I am trying my best.
Every week I plan a date for my husband and I, we go out, to a new restaurant, have drinks, have fun, it feels amazing.
For my kids, I never look at my emails or phone when I am with them, I really try to be 100% with them.
I also do an hour and a half a day of yoga (I need it so badly!)
My day is on a timer! but I love it!
What do you like the most about being a mother?
Hugging my family in the morning, and just knowing that I am a mum, I have a family, it's amazing.
I feel blessed, even if sometimes I want to k… them ahaha!
How did pregnancy affect your style? Did you have 'key' pieces while expecting?
For both my pregnancies I was wearing this Moodkit one piece, oh my God, please! Any pregnant women should wear this, it is so comfortable and makes you look sexy!
How did you manage your body changes since the beginning of your pregnancy?
I had two amazing pregnancies, I was not sick, I had a lot of energy, I practiced ashtanga yoga everyday till four days before the birth.
I had very easy birth. It was a dream.
I like seeing my body changing during the pregnancy….it's harder after the pregnancy! So I work out…a lot…
I treated myself well: had a massage every 10 days at the house, it really helped!
You did practice yoga till almost the last day of your pregnancy, could you explain us a little more about your beauty & sport routine?
If I feel good in my body, I feel good in my head, I want to do more, I want to move more, it becomes like an addiction.
I feel this is such an important feeling especially when you are pregnant.
I worked out every single day (except the first 3 months), I went to yoga everyday, and sometimes it was very hard for me, but so rewarding.
When I was 7months pregnant I only gained 4 kilos, and I am a big eater!
I ate super healthy and my personal trick was to cut sugar…I am addicted to sweets….but for this pregnancy I was more attracted to salt, so I decided to cut all sugars.
(And I probably ate it all just after birth!!!!)
You are also passionated about food and cooking, could you please tell us if you had cravings or special diet during your pregnancy?
Yes my husband and I, we love to cook and to eat! I pretty much ate everything during my pregnancy, except sugar! I was craving for saucisson and oysters, but also I had like a month of craving potato chips, but also fresh food in general.
Oh! and at the end of my pregnancy I was eating a LOT of chestnut cream (sorry I lied regarding the sugar consumption!)
What is your favorite thing to do with Ellis in Paris?
I love to take her to the park in the morning and then take her out for lunch somewhere in Paris, just the two of us. I feel we are having a real "girl time".
Do you have any vacation place you recommend child friendly?
I just came back from a week in Marrakech with my family, and my twin sister with her 2 kids. It's an amazing city to travel too with kids.
What are your favorite spots to go to in Paris?
We go away almost every weekend, but when we are in Paris, we love to relax at home, do some drawings, cook some food, and go for a walk in our neighborhood or to Jardin des Tuileries. Just do simple thingsI
Which Josefina do you have and why did you choose this one?
I have the medium version of the Josefina bag, because I don't like small bags that gets super heavy: the bigger it is the heavier it gets right?
The medium one is absolutely perfect because thanks to all the pockets I can store a lot of things in it! I also wanted to be able to use it everyday! I picked the natural brown color, its classical and goes with everything!
What does your JOSEFINA bag contain?
It contains diapers of course, lipstick, keys, wallet, bandaids, a small bottle of water, hand cream, crayons and drawing paper from OMY.
Do you use it more for work or more for the baby stuff?
Both, I use it during the weekend, for me and my two girls (and my husband as well!)
Do you have any inspiring mum? and why?
Yes I have a very inspiring mum, she is a very strong woman that raised 3 kids (my brother, my twin sister and I), and she's been having her own company since ever!
She has an interior design company that she's been running for the last 30 years by herself, and has 6 employees. She is very creative and has a unique way of seeing spaces and make them absolutely amazing. She's really an inspiration for me, she's very healthy, she works out, takes care of herself and her family. Sometimes she's a pain in the ass too!