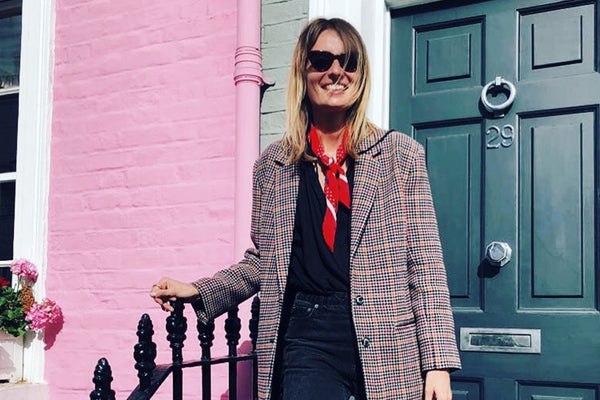 Alix de Forceville ( @alix_deforceville ) is the embodiment of the modern Parisian woman. Effortlessly sexy, driven and creative, Alix entered the social media realm with a personal blog to show off her style and hasn't looked back since.
Since then, she joined Jeanne Damas at Rouje's team to create visual campaigns that characterize the fashion brand's retro-chic style. When she is not on the move for work, she is enjoying her time as a new mom of Gaia, her sweet daughter who keeps her inspired every day.
Alix is ​​our Josefina of the March!
Alix, you are producer at Rouje, could you please explain us a little more about your job?
I take care of the image as a whole (the production of photo shoots, photos, videos, special projects…)
What do you like the most about your job?
I love being at Rouje since its creation and seeing the brand's expansion. It is a real pleasure to work
on many different projects with Jeanne (Damascus) as the boss 😉
When and how did you decide to join the social media family?
I had a blog called "shine a town" that I stopped because I did not want to show off and post my
looks anymore. I prefer to post my life at the office or at the photo shoots and from time to time pictures of Gaïa. (always hiding her face in order to protect her).
While discovering brands on Instagram, what inspires you the most?
I love to browse Instagram and discover brands, models for our shoots… What I found inspiring is the diversity of accounts. I follow at the same time influencers, artists, brands, (women and children), vintage-inspired accounts, restaurants…
Do you have fashion icons?
They are not really icons but I really like the profiles of the influencers Lucy Williams, Pernille Teisbaek, Bonjour Georges..
What does elegance mean for you?
I think it's a whole. You have to be relaxed, self-confident, and you must fit in the clothes your wear without doing too much.
What is your secret style?
I don't know if it's a secret but I love "breaking the looks".
To the despair of my man I do not like to feel too dressed. I tend to wear converse with a dressy outfit and high-heeled boots with high-waisted jeans and a sweater.
How do you imagine your life in 10 years? (family, work, life in general)
I would like Gaia to have a little brother or sister. I also dream of a house in the countryside where we would go on weekends with family and friends. On my job it is hard to say. I hope I continue to have beautiful projects.
Alix, you just became a mom for the first time, how do you manage to balance motherhood with your work, your couple and friends? (Is there any secret or rule?)
Not easy at all, I have to juggle between taking my daughter to the nursery school, and not being late to work (It is a real challenge because I have to take three metro lines!) but I think I have found a good balance.
My darling helps me a lot with Gaia. For example it's him who prepares dinner while I take care of her. It is very nice knowing that I can count on him and his family, which take care of Gaia after school.
What do you like the most about being a mother?
I'm still amazed about her. Every day I look at her, I take her in my arms and think about how lucky I am of having her. She is a very joyful little girl, she is curious and full of love. She gives meaning to my life.
How did pregnancy affect your style? (did you have any 'key' pieces, or uniform during pregnancy?)
At the beginning I was a little desperate not to be able to fit in my jeans again but finally I found clothes both stylish and comfortable. I also put my man's shirts. I also saw that Zara has just launched pregnancy clothes. This is good news because I did not want to spend too much money…
How did you manage your body changes since the beginning of your pregnancy?
I'm a real cliché because I loved being pregnant. I am pretty thin so I was happy to have more shape…I felt more feminine.
On the other hand, after Gaïa was born I had just one obsession: to fit in my jeans! After the breastfeeding period I slowly started to put them back. It took me nine months…
Could you please tell us a bit more about your beauty & sport routine?
I'm always in a hurry so I don't do sports. I'm not a great fan of it… I prefer long walks with my darling and Gaïa 😉
Concerning beauty, I use a plumping serum in the morning and a haze with hyalauronic acid in the evening and then a good moisturizer.
After my delivery I lost a lot of hair. I take dietary supplements but it is very long… So I decided to change my look and cut my hair squared.
What is your favorite thing to do with Gaia? (it is more what plan, place to go… than thing in general)
I'm lucky to have a big park next to my house with a children's play area. I love going out there with her and seeing her having fun.
She comes with us everywhere: shopping, to the restaurant, with our friends…
Have you already thought about any vacation place you recommend child friendly? (with surf of course)
We went on vacation once with her last summer, so I don't really have any good plans. We were in Tuscany and then near Uzes. At the time she was taking a lot of naps and did not walk so I think next summer will be completely different. Ideally I would like to rent a house in a place with sun with our friends who also have children to see Gaïa having fun (and us too of course) .
Which Josefina do you have and why did you choose this one? (Same for the color of monogramming)
I thing the large black with my initials. I wanted it to match with my black stroller.
What does your JOSEFINA bag contain?
It depends if I'm in fashion bag or purse mood. The idea of ​​missing things for Gaia causes great anguish to me so I always tend to anticipate too much. So the weekend I take all the necessary stuff (diapers, change mats, toys, hat…) and a little handbag to put my stuff in. When I don't travel to far I put my stuff in my Josefina…
Do you use it more for work or more for the baby stuff?
Since I'm an employee with an office life I don't need a laptop. So I use it exclusively for Gaia's stuff.
When she is older I'm sure I will make it a handbag for me 😉
Do you have any inspiring mum? and why?
My friends who are moms inspire me because I realized it is not easy every day. Specially for working moms.